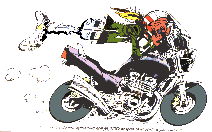 Bikes
March 2007: the Ducati ST2 has to go (anyone interested?)... we bought a sidecar rig: a 1987 BMW K100LT with EML sidecar. It has 58K miles.
I had to go to Denver to pick it up. 1,400 miles later, it's in San Francisco and I now feel fairly comfortable driving it. It's very different than riding a solo bike. Tristan loves riding in it, and Pastis, after some hesitation, is now very comfortable in it.
And a few images from its previous life in Denver.
---

Greta bought a Ducati ST2 on November 11, 2001.
---

Manu's bike: Honda VTR1000 Superhawk - bought in December 1997
---

Manu's previous bike: Honda CB750 Nighthawk - sold in 1997
---

Looks like Greta is about to cross the double line on her Suzuki GS500E - sold in 2001